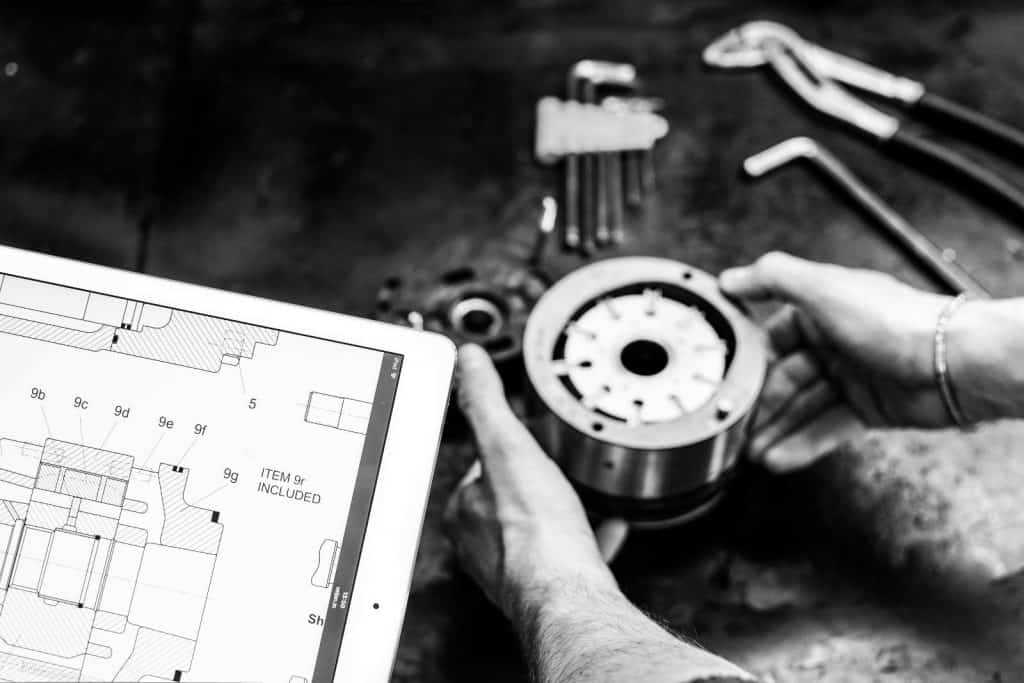 Veljan: History and Technology of Cutting-Edge Vane Pumps
With over half a century of experience, the Veljan brand has earned a prestigious position in the field of hydraulic pumps.
Its fixed displacement vane pumps are recognized worldwide for the efficiency, durability, and reliability they provide, ensuring high-quality performance across a wide range of industrial sectors.
Veljan's Success Story
Veljan's history dates back over 50 years, with deep roots in the hydraulic pump industry, allowing the company to emerge as a key player in this highly specialized field.
Veljan's significant expertise in this field is also attributed to its historic association with the Denison group, one of the well-known brands in the hydraulic sector. This group was later acquired by Parker Hannifin Corporation, a global leader in hydraulic and pneumatic engineering.
This past collaboration allowed Veljan to inherit and further develop advanced knowledge and technologies. The association with such a prominent brand enriched Veljan's skill set, contributing to continuous innovation and improvement of its products.
Thanks to this heritage, Veljan has been able to offer increasingly advanced and customized solutions to meet the needs of customers worldwide.
Veljan thus represents historical excellence in the world of hydraulic vane pumps, with a success story that proves to be a reliable choice for those in need of high-performance pumps in demanding industrial sectors.
Veljan Vane Pumps: Advanced Technical Specifications
Veljan pumps are highly versatile, offering various configurations to meet the specific needs of industrial applications. These configurations include single, double, triple, and through-shaft options, providing unparalleled flexibility in hydraulic system design. The operational speed range spans from a minimum speed of 600 rpm to a maximum of 3600 rpm (depending on the industrial/mobile application), allowing adaptation to a wide range of situations.
These pumps can handle a working pressure ranging from 210 bar in the VTXB series to a maximum of 320 bar in the VT7B/BS series, demonstrating their robustness and ability to handle demanding working conditions. Their compatibility with mineral oils, flame-resistant fluids, and biodegradable fluids makes them suitable for a wide range of applications, from standard to specialized ones.
Veljan pumps are also known for their extremely quiet operation, even at high working pressures, contributing to improved workplace comfort and reduced environmental impact.
Efficiency, Durability, and Reliability
Veljan's fixed displacement vane pumps are renowned for their exceptional efficiency, precisely designed to ensure a constant and controlled flow of hydraulic fluids, a crucial factor for numerous industrial applications.
The ability of these pumps to operate efficiently significantly contributes to reducing operating costs and optimizing performance in industrial processes.
What truly sets Veljan pumps apart is their durability and reliability. Thanks to high production standards and high-quality materials, these pumps withstand wear and operational stresses, ensuring reliable operation over time. This feature is crucial in industrial environments where even a short machine downtime can result in high costs and significant production losses.
Interfluid, Official Distributor of Veljan Pumps and Motors
As an official distributor, Interfluid is a reference point in Italy and Europe for the distribution of Veljan vane pumps and motors.
To ensure the availability and efficient distribution of Veljan pumps, we have a large ready-to-ship warehouse, enabling us to offer specific products for every application faster than the average. Moreover, our in-house customization capability allows us to provide tailored solutions for our customers.
With our in-house testing bench, Veljan pumps undergo rigorous tests that tolerate no imperfections, ensuring the delivery of components that meet the latest quality standards.
Key Features of Veljan Vane Pumps
Interchangeability
Veljan pumps are fully interchangeable with Parker Denison's T6 and T7, Eaton Vickers' V and VQ series, Yuken's PV2R series, and Duplomatic's FV6 and FV7 series.
Extensive Customization:

The Veljan pump range offers extensive customization possibilities to meet specific customer needs.
Compact and Lightweight Design
Veljan pumps feature a compact and lightweight design, facilitating integration into existing systems.
Excellent Power-to-Weight Ratio
These pumps offer an exceptional power-to-weight ratio, ideal for applications where space and weight are critical.
Simple and Fast Cartridge Replacement

Veljan pumps are designed to allow quick and easy cartridge replacement, reducing machine downtime.
Long Operating Life

Thanks to high-quality materials and stringent production standards, Veljan pumps offer a long operating life.