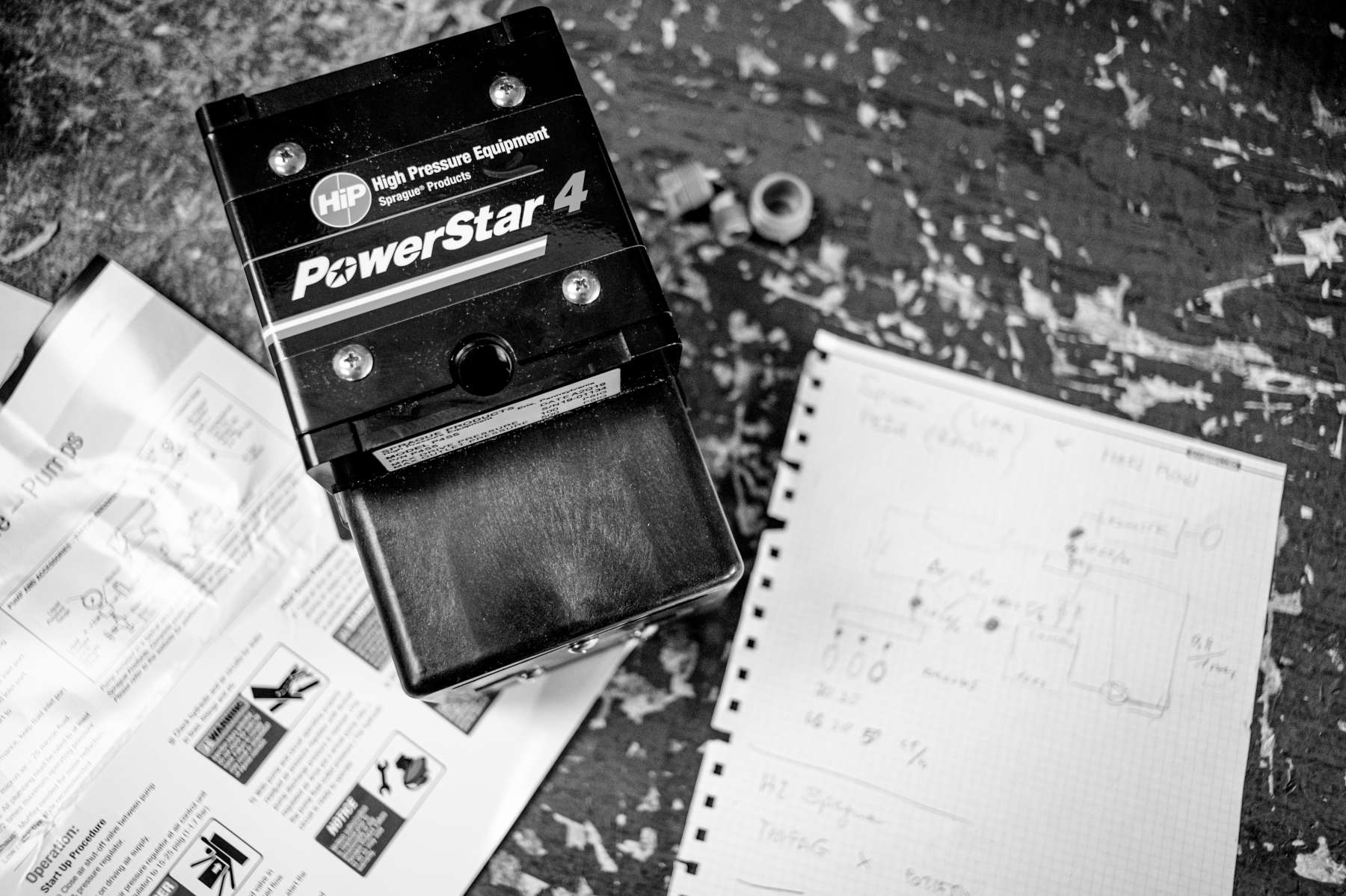 How to choose a pressure booster
Identifying the best way to pump, convey and pressurize liquids of various types is an issue plant manufacturers and designers are constantly having to tackle. Pressure boosters (also known as intensifiers) for liquids, gases and compressed air can come to our aid. Let's take a closer look at the strengths and characteristics of the principal categories of these devices: air driven liquid pumps, gas boosters and air amplifiers.
THE DIFFERENT TYPES OF PRESSURE BOOSTERS AND THEIR RESPECTIVE ADVANTAGES
A tried and tested technology which is being constantly perfected and guarantees a long-lasting solution at a reduced cost. In a very few words, this is an effective description of air-driven pressure boosters, devices that are of prime importance to plant designers and constructors in search of the most appropriate solution for pumping, conveying and pressurizing liquids of various types. Fundamentally, they are reciprocating piston pumps which, thanks to the principle of differential working areas, convert compressed air into hydraulic high pressure. But, generally speaking, what advantages do pneumatic pumps offer when applied to high pressure?
It is common knowledge to the designers who use them with confidence in their plants that they offer multiple advantages, ranging from their intrinsic safety to their capacity to maintain pressure levels without consuming energy (when the pressure drops, they automatically start cycling again), not to mention their compatibility with almost all liquids at any temperature. Another important advantage consists in the fact that it is sufficient to adjust the pressure and the quantity of compressed air to the pneumatic motor in order to manage pressure and flow downstream, thus enabling a flexible use of the pump in various applications, without having to invest in special equipment.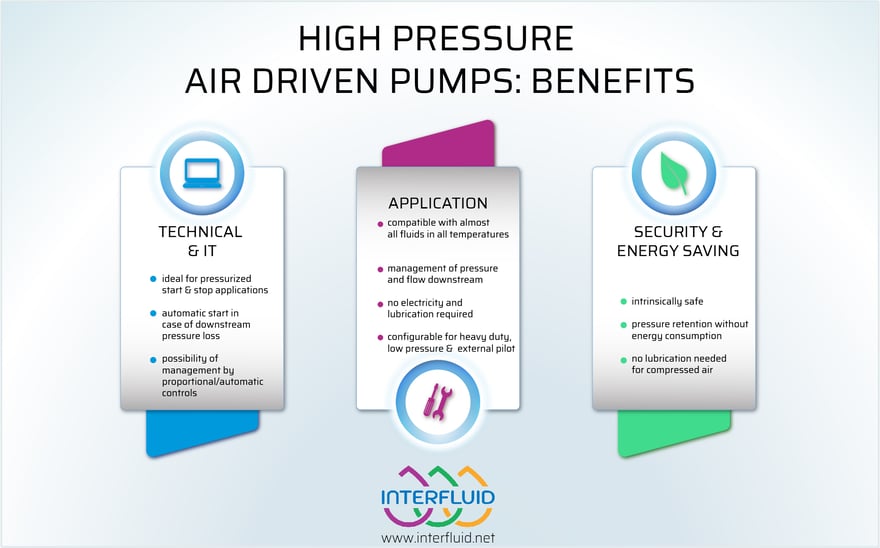 Air driven pumps have different application, technological, safety and energy saving benefits
The portfolio of pneumatic pumps distributed by Interfluid comprises a vast selection of models fine tuned by two great American constructors, renowned for their wide range and for the solid innovation of their pumps: HII (Hydraulics International) and HiP (High Pressure Equipment) with the Sprague trademark.
Three great product families are comprised in the general category of pressure boosters: air driven liquid pumps designed for conveying and pressurizing circuits with liquids up to 5516 bar, gas boosters which enable us to reach pressure levels of 2070 bar without contaminating the circuit and air amplifiers which are essentially no more than a simplified version of gas boosters for using when pressure levels are not required to exceed 350 bar.
For all HII pneumatic pumps, it is possible to request the modification of the outlet conveyance pipe, a very useful feature in the Oil & Gas industry when operating with non-inert gases, and a heavy duty modification which enables an increased duration and speed of the pump in particularly heavy-going applications. Besides, to facilitate control and integration with the overall circuit, HII pumps may also be equipped with the external pilot mode which enables the pump to be started and stopped thanks to a simple solenoid valve of reduced dimensions. Now let's consider the advantages of all these devices and their fields of application more in detail.
AIR DRIVEN LIQUID PUMPS
As we have already specified, the air driven liquid pumps convert compressed air into hydraulic pressure by exploiting the principle of differential working areas. These pumps are widely used for high pressure hydrostatic testing, flow units, for operating actuators and lock cylinders and for testing valve seals.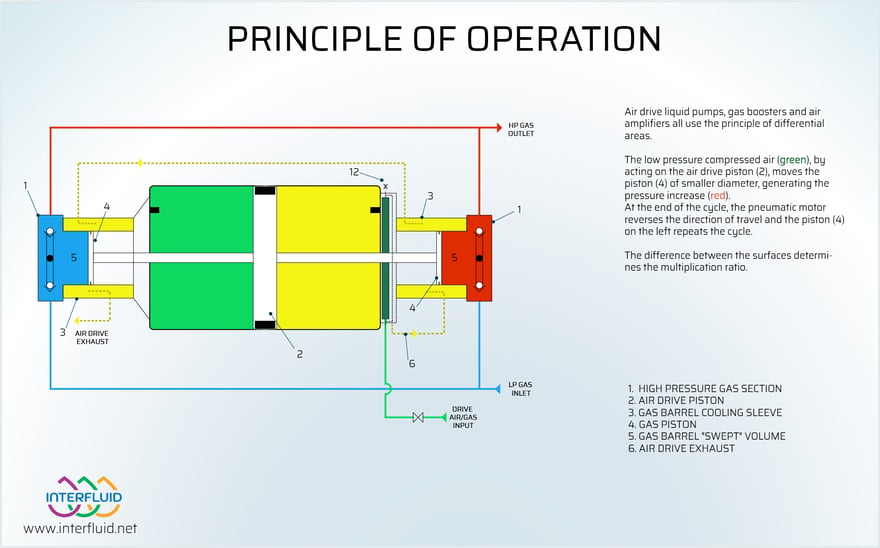 Functioning scheme of the principle of differential working areas.
The high pressure liquid section is usually built in AISI steel so that it may be used with either water or with various types of oils, inert and non-inert liquids. The standard static seals are in nitrile, EPR or EPDM, while those of the piston are in UHMWPE. In the standard versions, the motor air section does not require lubrication. For seal friction purposes, all air-driven motors will cycle regularly starting from about 0.8 bar of compressed air.
The 3L-SS-XXX series from HII and the SM-3A/S-XXX series from Sprague may be supplied with a lever for manual operation, enabling a very accurate pressurization of the component being tested.
In order to pump liquefied gas without running the risk of gassifying the liquid, the pumps of the 3L series by HII may be supplied without the return spring and (in the 5L series) with the 3-way reversing valve, enabling the return course with upstream liquid pressure to be effected smoothly, which might otherwise cause a gas bubble in the liquid section.
As well as the external pilot and heavy duty modifications, some models of the 5L and 7L series by HII may be provided with a low pressure modification, which enables their use with 0.2 bar of compressed air, and consequently increases sensitivity and repeatability when pressurizing liquid that is already at a very low pressure level.
GAS BOOSTER
Let's go on to examine the pneumatic and electric driven gas boosters, designed to convert compressed air into high pressure, up to 2060 bar. In these devices, the outlet pressure, which may be set by a regulator, corresponds to the air pressure multiplied by the pressure ratio of the gas booster.
When the end pressure is reached, the gas booster stalls automatically until a drop in pressure occurs downstream. At this point, the device restarts to cycle automatically until the end pressure is reached once more. Thanks to the division between the high pressure section and the air-driven motor, the processed gas will not be contaminated and neither will the compressed air.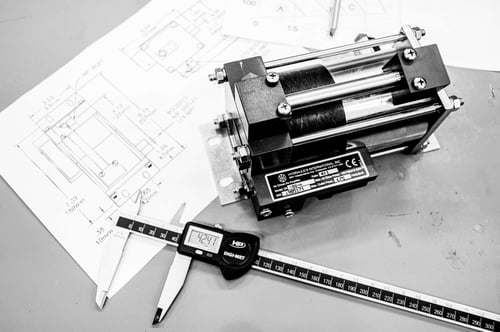 Interfluid has chosen to include the gas boosters of Hydraulics International in its product offering because this US company has a complete range of single acting, double acting and two-stage air-driven gas boosters, available in a variety of compression ratios. Also in this case, to complete the offering there is a gas booster fine tuned by Sprague.
These devices are ideal for applications with inert gases (nitrogen, argon, helium and relative mixtures) and non inert gases (liquefied gas, CO2, oxygen, methane and hydrogen). One of the most important advantages, apart from the application-related advantages they have in common with pneumatic pumps and which have already been described above, it is worth mentioning the absence of lubrication for compressed air. This aspect is actually a very important one from an environmental point of view since it avoids the dispersion of oil particles in the atmosphere.
They serve multiple markets: the petrochemical industry, Oil& Gas, the pharmaceutical industry, constructions, naval and aeronautical engineering, diving, the automotive industry, research and development, just to name a few.
The high pressure section is made of AISI steel and the static seals of the high pressure section are in Viton. Because of the high compression factor and the consequential heat stress, the boosters of HII's 5G and 7G series are fitted with an external cooling sleeve to lower the temperature of the high pressure cylinder and prevent excessive wear of the seals. The expelled motor air is used for cooling to provide a solution of excellent efficacy at zero cost. To maintain gas purity, the gas boosters do not contaminate and are always supplied with a spacer (in its turn fitted with a threaded connection to convey any leakage into a safe area), so that the air and gas sections are always sealed off.
The principle modification of a gas booster, apart from those already mentioned and which refer to all types of pumps, is the version for use with O2/H2-CO2.
AIR AMPLIFIERS
We can conclude this chapter on air-driven pressure boosters by dealing with the product category known as air amplifiers. Basically, these are a simplified version of gas boosters with which they share the same standard versions (single acting, double acting and two-stage), the same modified versions(external pilot and heavy duty) and the same operating principle, without however offering a division between the air-driven motor and the high pressure gas section.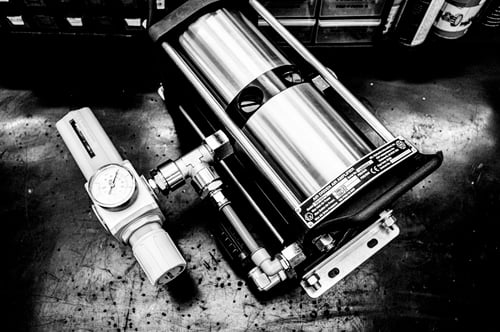 Therefore, they are not suitable for use with all gases and are mainly employed for the purpose of increasing the pressure of compressed air and other inert gases. Pressure boosters, also known as pressure intensifiers, generate pressure up to 350 bar (5075 psi). They are ideal for increasing the pressure at a particular point of the system without having to set up a high pressure line in the production system.
The high pressure section whose use is intended for high compression ratios is made in AISI steel and, for low ratios, in aluminium. The impact of mechanical stress on the seals of the high pressure section (in NBR or Viton) is averted thanks to a reduction of the gas temperature enabled by the exhaust air of the booster motor positioned above the high pressure section.