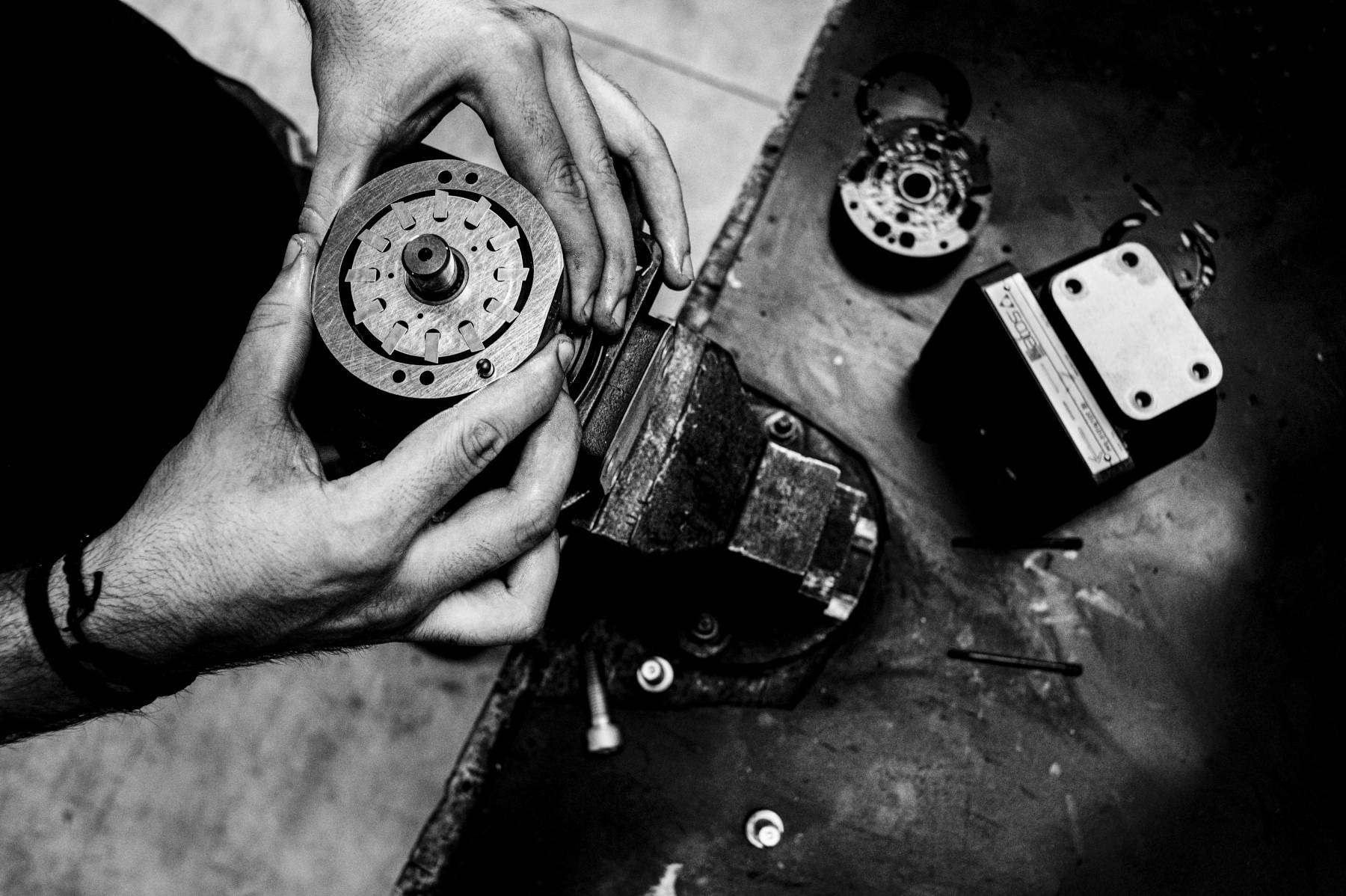 How to choose the most suitable hydraulic pump
In other words, how to choose the hydraulic pump with the most suitable technology for each specific application, taking into account flow rate, pressure, cost, efficiency, energy savings, reduced noise emissions and other essential factors.
These guidelines provide information which may turn out to be extremely useful when considering the main types of hydraulic pump available on the market today (with indications of their pros and cons), complete with a number of links to the products offered by Interfluid.
THE DIFFERENT TYPES OF HYDRAULIC PUMPS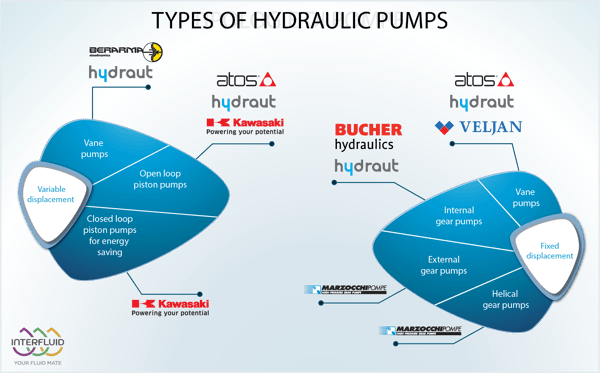 One of the fundamental aspects needing to be considered by industrial machinery designers is that of the most suitable type of hydraulic pump to employ. The choice is not an easy one because there are numerous applicable technologies and each one of them is characterized by strengths and weaknesses which have to be carefully weighed up in view of the specific application being addressed. In some cases, the main factor to be considered in the engineering design process may be that of low noise emissions, while in other cases, the need to reduce energy costs could be a key determinant. On the other hand, there may be other instances in which it is essential to use hydraulic pumps with the capacity to manage high levels of pressure and flow rates with an elevated volumetric efficiency, while in some systems of relatively minor complexity, the only really important factor is that of choosing a more economical pump.

HOW TO CHOOSE A HYDRAULIC PUMP
The choice of the right hydraulic pump is therefore a decisive one, also in the light of the fact that technology has evolved rapidly and offers many more efficient alternatives to the devices that some designers continue to use for the development of their systems, more frequently out of habit or owing to a certain mistrust towards more recent and innovative technologies.
Interfluid is much more than a mere distributor offering a wide selection of premium hydraulic pumps which have been produced and fine-tuned by international constructors, since it also has the necessary expertise to collaborate in the engineering design process, and recommend the most suitable components for each application. In brief, a sort of "system integrator" of hydraulic pumps. All the hydraulic pumps are assembled and tested by our own specialized staff thanks to the test bench we have set up to guarantee the highest quality standards our clients are accustomed to.
For practical purposes, all pumps fall into one of two large categories: fixed displacement and variable displacement pumps. Starting from the latter, it must be said that variable displacement pump technology has been surpassed in many cases by other systems: while it used to represent the quintessential "energy saving" solution, the introduction of the variable-speed pump and other systems in which hydraulic pumps are combined with electronic systems (such as inverters) have in fact forced this technology to take a back seat in many applications.
The main difference between fixed displacement pumps and those with variable displacement is that the former deliver constant flow rate and pressure while the latter enable energy cost savings when the system does not require capacity thanks to the reciprocation of the flow rate when the system is at peak pressure.
VARIABLE DISPLACEMENT HYDRAULIC PUMPS
Deriving from certain fixed displacement pumps, these devices benefit from construction features which are able to vary the flow rate dynamically. The most widely known variable displacement hydraulic pumps are piston pumps and vane pumps
VARIABLE DISPLACEMENT PISTON PUMPS
Axial piston pumps with open circuits are designed to handle large flows at high hydraulic system pressures. Typical applications are mobile equipment, hydraulic systems and hydraulic presses, metal forming machinery and concrete injection machines. The main characteristics of piston pumps can be summarized as follows: compact dimensions, high power density, volumetric efficiency and a wide range of regulators, high speed and torque, high operating pressures.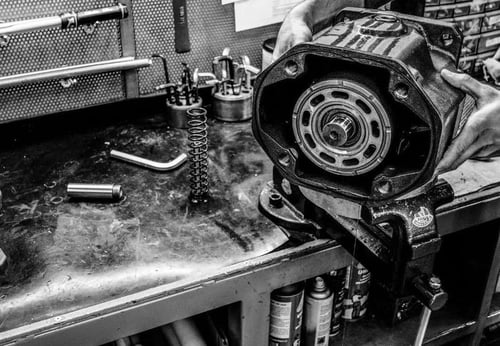 Since over 10 years, Interfluid has made significant investments in the Hydraut brand, which is now one of the most important European constructors of hydraulic pumps operating on international markets. Our product portfolio comprises open-circuit axial piston pumps of the HSP and PQ series, supplied with an 18 month warranty.
Their perfect interchangeability with A10V(S)O pumps and with their relative spare parts has made the series HSP very popular with producers of hydraulic systems, hydraulic repairers and maintenance operators. Instead, the series Hydraut PQ is destined for applications in which it is necessary to use variable displacement piston pumps with operating pressures up to 250 bar coupled with small flows. Their added value consists in low noise levels, compact dimensions and a relatively low price.
Thanks to the know-how and experience Interfluid has built up in the field of variable displacement axial piston pumps, three years ago another new partner joined our team: Kawasaki, which has entrusted to Interfluid the marketing of the series K3VL Eco Servo of reciprocating pumps for combining with energy-saving systems. These pumps are therefore of great interest to all those machinery constructors for whom optimized productivity and the consequential reduced impact on energy consumption is a priority.
Finally, the range offered by Interfluid also includes the series PVPC-PERS of variable displacement axial piston pumps with proportional P/Q control produced by Atos, a brand leader in the production of electro hydraulic systems and components.

VARIABLE DISPLACEMENT VANE PUMPS
The portfolio of variable displacement pumps distributed by Interfluid also comprises the vane pumps Berarma, supplied with ISO e SAE connections and already compatible for combined use with similar or other types of pumps.
Variable displacement vane pumps VPV Hydraut are available in single and double version and can also be coupled with electric motor VPV.
FIXED DISPLACEMENT HYDRAULIC PUMPS
Now, let's take a closer look at fixed displacement pumps which, in their turn, may also be classified as follows, according to the type of construction technology: vane pumps, internal gear pumps, external gear pumps and helical gear pumps. They are employed in various hydraulic solutions, from the more traditional and simple types to today's latest energy-saving solutions.
FIXED DISPLACEMENT VANE PUMPS
Let's start with vane pumps, devices that are generally used in cases when the operating pressure and flow rate are not very high or when the volumetric efficiency required at high pressures is not particularly elevated. They offer the advantage of being easy to handle, since it is quite a simple operation to change the displacement and create systems with single, double or triple pumps. For more than 20 years, Interfluid has been the unquestioned leader in this segment, being able to count on a time-consolidated experience, a well equipped workshop to ensure rapid order processing and shipment, a high level of assembly flexibility and an accurate quality control system.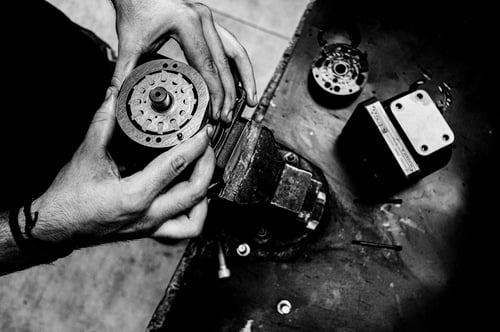 The go-to brand is certainly Veljan, a company which has specialized in the construction of vane pumps since 1970 and has belonged to the Hagglunds and Denison Group for almost 30 years. The sound reliability and wide range of vane pumps Veljan offers make it one of the top producers on the international market. Interfluid stocks hundreds of hydraulic vane pumps and motors in the company warehouse and this enables us to ship most orders within a few days. All Veljan VT6 and VT7 pumps and their respective spare parts are perfectly compatible with Parker Denison.
To complete the range, Interfluid markets the pumps of the Atos series PFE and the Hydraut medium pressure vane pumps of the series HS, HQ and VH which are perfectly interchangeable with Vickers, spare parts comprised.
The differences between these brands in terms of range, that is to say size, displacement, operating pressure and interchangeability, enable Interfluid to offer customers an extremely wide range of solutions in terms of technical solutions and price.
INTERNAL GEAR PUMPS
While fixed displacement vane pumps represent the most conventional solution, internal gear pumps are the natural alternative when having to construct systems that require more elevated operating pressures, a need that is arising more and more frequently, with a view to an all-round optimization of machinery in terms of cost. Thanks to their remarkable construction technology, they enable greater volumetric efficiency when compared to vane pumps. With regard to the question of energy savings, an increasingly topical issue in industry, the internal gear pump is the ideal component for creating a system with the capacity to increase the overall performance of the machines and, when coupled with the right inverter, enable a considerable saving in energy costs as well.

This type of hydraulic pump is mainly used at present in the plastic and rubber injection industry, but is starting to be employed also in die casting and, more generally, in hydraulic systems where a reduced level of noise is essential. One of the advantages internal gear pumps have over other pumps with different construction technologies is in fact a significantly reduced level of noise emissions. Therefore, this aspect is very important in manufacturing companies employing many machines in the same department where noise emissions represent a critical issue that needs to be addressed.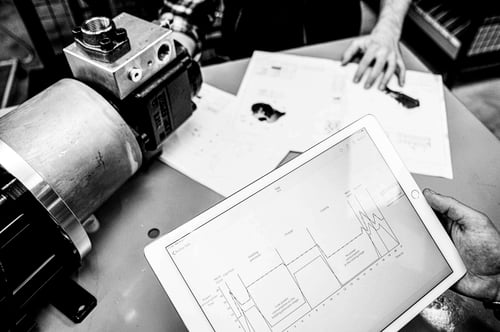 With a ten-year experience in internal gear pump technology, Interfluid has many contacts in the ambit of press production destined for plastic, rubber, wood and metalworking, and has recently signed a trade agreement with Bucher, a leading company in the industry, combined with investments in know-how and product stock for the purpose of providing an efficient service to its customers. The core products of the German company are the new QXEH and QXEHX series, pumps designed to be employed in the ambit of variable speed systems, thanks to the use of inverters and synchronous motors. Interfluid also distributes the pumps of the QXM and QXEM series, four-quadrant internal gear pumps, which are ideal for energy-saving closed-circuit operations enabling the elimination of flow control valves (on/off and proportional) and which may also be used as motors for energy recovery purposes.
The choice of internal gear pumps offered by Interfluid includes Hydraut HG pumps that can be a valid solution in the sectors of plastic and rubber injection molding, machine tools, trimming presses, press brakes, die casting and for the construction of hydraulic power units.
EXTERNAL GEAR PUMPS
It is also worth mentioning the external gear pumps traditionally used in relatively simple systems and in those cases in which high performance is not required in terms of pressure and volumetric efficiency. The principal advantage offered by this type of hydraulic pump is that it is more competitively priced than other types of pumps, while its main disadvantage is certainly represented by a higher level of noise emissions.
Since 2019, Interfluid has also been the authorized distributor for Marzocchi with which it has an agreement for the distribution of various hydraulic components, comprising the external gear pumps ALP and GHP.
HELICAL GEAR PUMPS
An interesting alternative to conventional external gear pumps is provided by Elika helical gear pumps which Marzocchi has recently designed to make up for the two major defects associated with traditional external gear pumps: elevated noise emissions and low volumetric efficiency. In terms of technology and performance, this product is positioned midway between external gear pumps and internal gear pumps, and therefore offers a fair compromise between cost and performance.